Home

2023 Poster Presentation Information
At the 107th IAI Educational Conference, individuals will have the opportunity to participate in the Poster Presentation Session. There are two categories of posters: Student and Professional. Both Student and Professional Posters that have been accepted through the IAI Science and Practice peer review process will be displayed on Tuesday evening. The Student participants will have an opportunity to compete for scholarship awards generously sponsored by Ideal Innovations, Inc.



Poster Presentation Rules and Guidelines
The Poster Presentation Application is now CLOSED
Research projects in the forensic fields of crime scene processing and collection, friction ridge skin, footwear or tire impression, biometrics, bloodstain pattern, facial identification, forensic art, photography, digital/multimedia, and DNA evidence are welcome. Other topics will be evaluated on a case-by case-basis. Posters may also demonstrate a process, present an unusual case, or include items of historical interest.
Individuals interested in presenting posters at the Conference must submit their proposal on-line before July 14, 2023. Poster presenters will be notified of acceptance within six weeks of their application submission.
For the poster presentation, the presenter will be expected to attend the Poster Presentation Session on Tuesday, August 22, 2023 (5-7 pm), stand by their poster and answer questions posed by conference attendees and judges. No formal presentation is required.
Audio/video equipment and other electrical components will not be provided for the poster presentations. A 4' X 8' board will be provided for display of each presentation. Posters will be on display until Thursday of the conference. It is the responsibility of the presenter to ensure the poster is picked up by Thursday.
Student Poster Presentation
The Student Poster Presentation Application is now CLOSED

Photography Contest Information
At the 107th International Educational Conference, individuals will have an opportunity to participate in a Photo Contest generously sponsored by Forensic Pieces.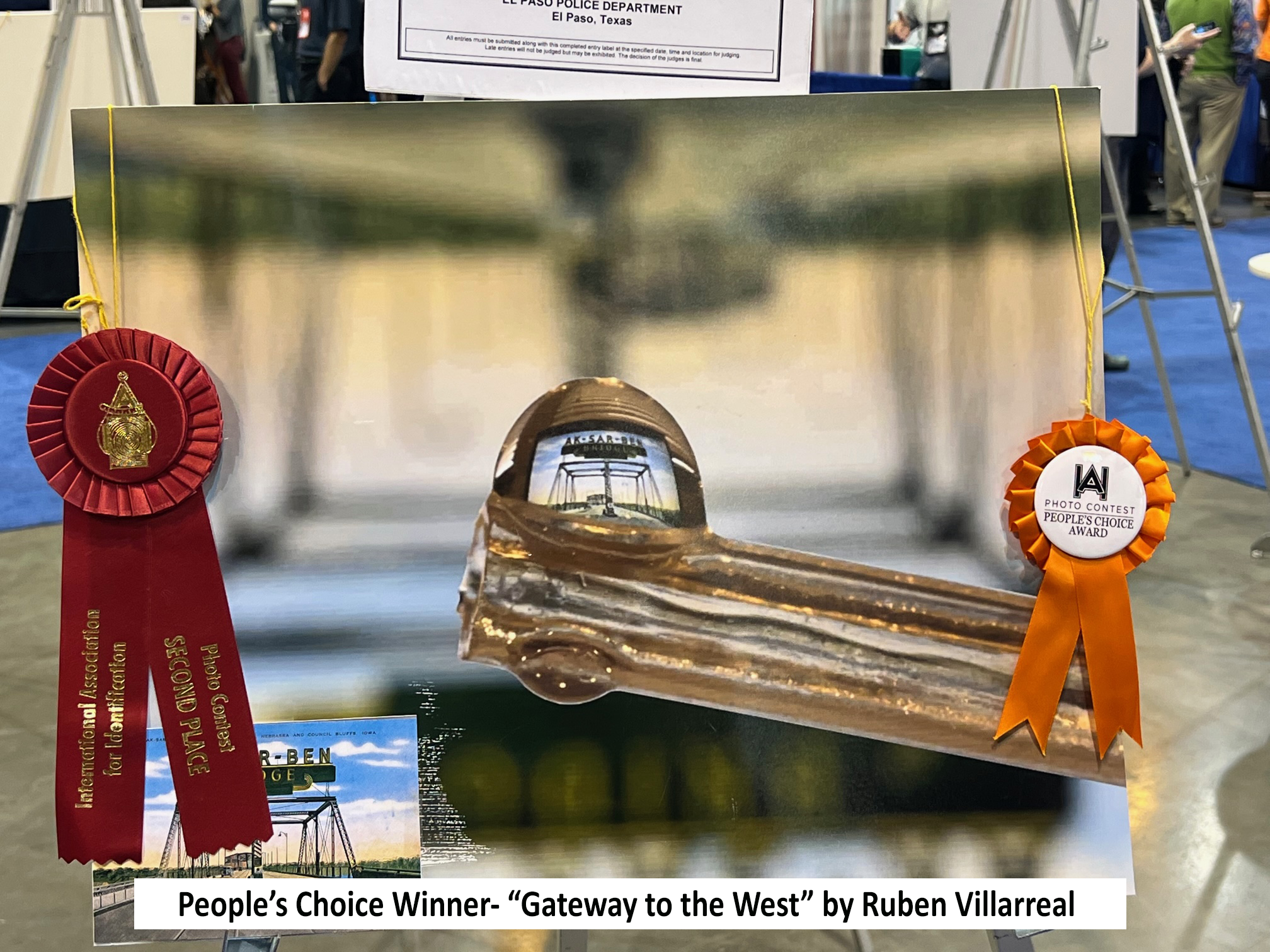 2022 Winners in Omaha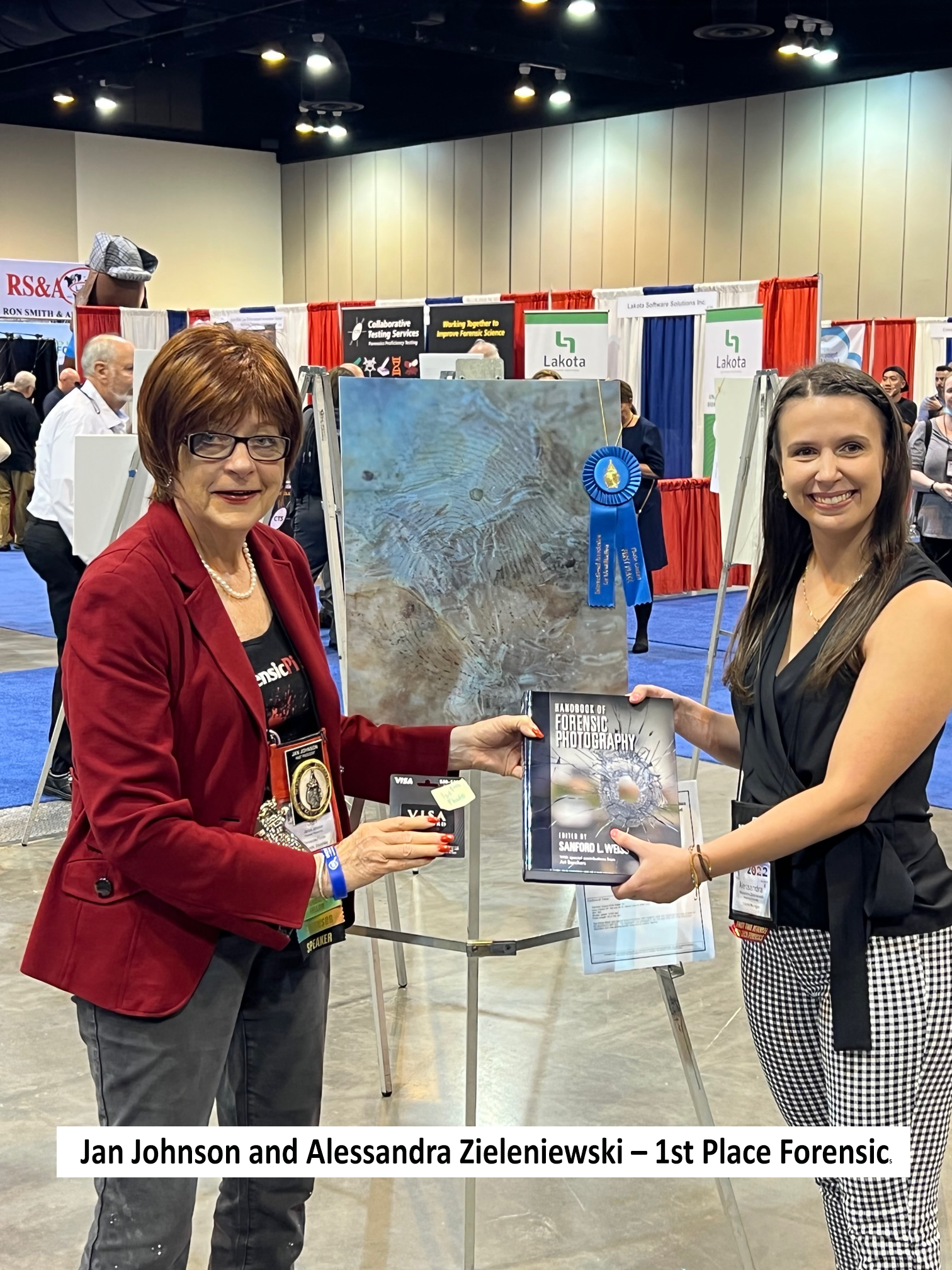 Photography Contest Rules and Guidelines
There will be categories for Forensic and Creative entries. Prizes will be awarded for 1st, 2nd and 3rd place in each category. There will also be a Peoples' Choice Award chosen by the conference attendees. Participants may submit only ONE photo for each category (Creative and Forensic).
Entries from past conferences may not be resubmitted.
First (1st) Place winners in each category will not be eligible to enter the contest the following year; however, they will have the option to participate as a judge the following year.
Any subject matter may be used for the Forensic category (crime scene and evidentiary).
The theme for the Creative category this year will be "Impressions." Use your imagination and creativity! Your Creative entry must utilize this theme.
Photographs may be in color or black and white.
Entries must be printed and mounted on foam core board with no borders, no frame, no matting; all sides must be at least 16 inches and no more than 24 inches
In response to your application, you will be sent photo contest Entry Label for you to fill out and bring to the conference with your photo, printed and mounted on a piece of foam core board (size 8.5 x 11). When you fill out the form for printing, ensure the word limit for your description and technical data is no more than 100 words, and that it is printed in 16 pt. font. Approximately 2 weeks before the conference you will be sent additional information about where and when to submit your photo with label / contest entry at the conference.
Participants MUST comply with the guidelines to be eligible for judging. Late submissions or submissions that are not in compliance will not be judged but may be eligible for Peoples Choice.
Deadline for submission is August 14th, 2023.
Applications for the photo contest are now CLOSED.
For further information, contact: Karen Cooper, Photo Contest Chairperson, E-mail: coopkarenk@aol.com