Home / IAI Journals / ID News

Identification News is an official publication of the IAI and is devoted to the publication of the IAI's information and operational aspects. Although a routine forum for the nominated and appointed leadership of the IAI, Identification News is also receptive to publishing commentary from within its general membership. Matters of interest within represented forensic identification disciplines may also be published within Identification News; however, original technical articles should be submitted to the editor of the Journal of Forensic Identification. Technical articles previously published within an IAI Divisional publication can be submitted to Identification News for subsequent publication.
Identification News is published quarterly, and hard copies are distributed during the first month of each quarter.
Circulation of both Identification News and the Journal of Forensic Identification is in excess of 7,000 hard copies, which are mailed to members and subscribers throughout the world.
Electronic copies of Identification News are also available in the Member Login section of this website.
For information on submitting articles for publication in Identification News, please link to this publication's Submission Guidelines.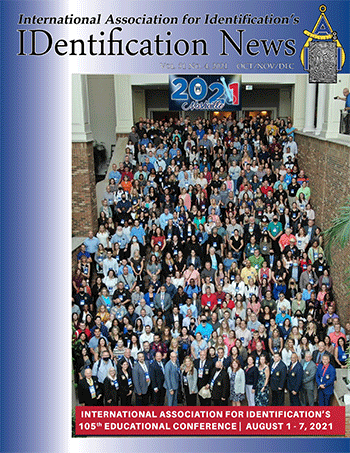 Editor:
Jon T. Stimac
PO Box 3245
Sunriver, OR 97707
Phone: (541) 593-9719
Email: Identnews@gmail.com